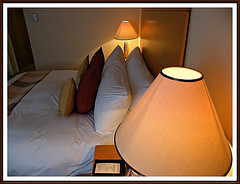 The former chairman of a huge bank in Egypt faces charges of sex abuse just weeks after the former IMF chairman was arrested for similar charges. Mahmoud Abdel Salam Omar is accused of sexually harassing a maid at one of the premier hotels in Manhattan.
The police said that Omar was arrested last Monday after being accused of sexually harassing one of the chamber maids at the Pierre hotel. The hotel is situated near Central Park and the Fifth Avenue on the Upper East Side.
Based on the police report, the maid was summoned to Omar's room to drop off tissues Sunday evening. Once inside the room, however, Omar would not let the maid go and allegedly touched her inappropriately.
The maid managed to break free from Omar and immediately told her superiors about the incident. Her superiors, however, said that it is best until Monday to report the alleged sex abuse to the hotel's security director. The director called the police Monday morning after hearing of the assault.
Police officers searched Omar's room and the area surrounding the hotel, but did not find him. The police left and returned to hours later, and found Omar in the hotel lobby. He was then immediately arrested.
Omar was held in prison Monday night and was later transferred to a booking facility in Manhattan Tuesday morning. The Egyptian consulate in New York made no comments on the incident.
Paul Browne, spokesperson of the NYPD, said that the complaints seem credible. He, however, refused to comment further saying that the case is still under investigation. The case is set to be arraigned within the week.