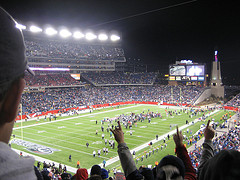 This is exiting news for football fans on the go.  For the very first time ever the Super Bowl will be streaming online.  This means you can catch it on your laptop or your Verizon mobile phone if you are stuck away from a TV during the big game today.
Streaming of the Super Bowl is not new, illegal sports streaming sites have been doing it for years.  This year though NBC, NFL and Verizon will be allowing you to legally stream the game online.  Just last week 16 websites where shut down by the feds in New York for illegal sports streaming.  This seems like a just in time situation for NBC and the NFL to capitalize on the advertising dollars associated with the online streaming that would have been going to the illegal sites.
If you are a Verizon wireless customer, you can get the NFL Mobile application for your your phone.  Users with 4G LTE get the streaming action for free whereas users still on the "outdated" 3G devices will need to pony up ten dollars a month or three dollars per day for the new app service.  There are some strange terms to the app though.  Blackout of games will still be enforced by checking your location before you are able to watch a game.  If you are watching the game live in the stadium, you will not be able to stream the game on your phone.  My question is why would you want to do that anyway if you are live at the game?!?
Alas, Stupid restrictions like this are why the illegal streaming sites pop up in the first place.  The NFL are seeming to move in the right direction though by allowing the streaming in the first place.  Only time will tell if it will be enough to keep the illegal streaming at bay.