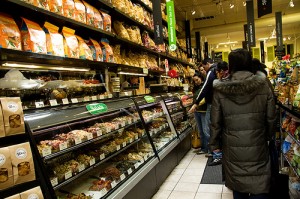 Sales in the US retail market slowed abruptly in January, according to the official data released on Tuesday. The weak retail sales were brought about the huge snow storms that affected several parts of the country in the beginning of the year.
From December, sales only increased to 0.3 percent, which shows the slowest rise in the market in seven months. The figures were based on the Commerce Department data that was adjusted for the given time of year.
In fact, the sector adjusted the December rise to 0.5 percent, where it was initially estimated to be 0.6 percent.
The pace in retail sales, as well as food services missed out the 0.5 percent increase analysts foretold, even though many stores featured sharp discounts after the holiday season.
Since January 2010, retail sales have increased to 7.8 percent based on a 12-month period. By December, retail sales merely climbed to 0.3 percent, which was barely half of the rise expected. However, the numbers excluded the automobile sector whose sales vary per month.
Garden supplies and building material dealers were the most affected area in the market. Their sales dived to 2.9 percent because of relentless winter weather and the collapse in housing markets.
The weak start of the year came after an upbeat recovery in the 2010 post recession period. That time, retail sales increased to 6.6 percent, which was the largest yearly increase since 1999.
Consumer spending, whose main indicator is retail sales, determines two-thirds of the economic activity in United States. However, they do not get sales in the area of services, which signify two-thirds of the consumption in household by value.