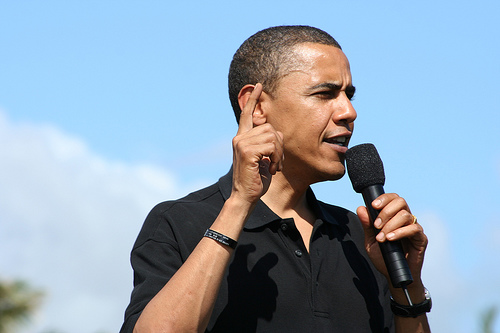 President Barack Obama announced himself as a candidate for the next year's re-election through video and mail sent to his supporters on Monday. He hopes economic recovery will increase his chances for a new term.
The announcement sets the plan to gather about $1 billion donations, which would break off the campaign finance record of $750 million he had previously acquired for the 2009 elections.
Obama appears to be in a fairly good shape against his potential challengers from the Republican field. However, many believe it is early to tell yet. The U.S economy is picking its pace to recovery. Yet, there are still various instances that could affect Obama's chances, which include increasing prices of gasoline and unexpected extension of the conflict in Libya.
Also, the high unemployment rate in the United States became a huge factor in the victory of Republican field in November. Most Americans consider this factor when they vote. But the unemployment rate decreased to 8.8 percent in the last few months.
In 2009, Obama became the first ever black president in the United States. He scored big when reforms of healthcare, as well as financial regulation laws were approved by the Congress last year.
Obama's fate in the 2012 re-election will highly depend on how he scores with the independent voters, which were an important part of his victory in 2008.
Although President Obama tries to distance himself from actions which can be viewed as 'politicking,' each of his moves will be viewed now as re-election plots by the media. In his email, Obama said to his supporters that he will be filing papers to begin his re-election bid in a formal way.