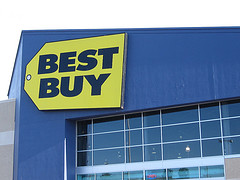 Cyber Monday at Best Buy is here once again. If you are in the market for a laptop, you may find that their deals are lacking. But they still have plenty of other deals going on for Cyber Monday in an attempt to pull in huge sales for the day.
Check out the XBox 360 Kinect for $99. Then head over to the music section and pick up a $50 iTunes gift card for $40, you're essentially getting one whole album for free. You can get a HP Web cam for $7.99 or buy an all-in-one Gateway computer for just shy of $400.
Best Buy has deals on computers, tablets, tv's, music, phones, mp3 players, cameras and camcorders, appliances, gps, video games, etc… So they pretty much have a deal on everything you might need. If you need to do shopping, today will be your best bet of the year for Best Buy. Best Buy Cyber Monday deals are only good Sunday and Monday and are available online as well.