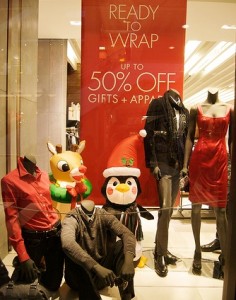 American retailers are focusing on the shopper's convenience as Christmas nears this holiday season, as published by Reuters.
Some stores are offering a 24-hour shopping experience and guarantee that the items most shoppers want are available in store. On the other hand, some stores are trying to correct mistakes on previous shopping days.
Best Buy tried to alter their strategies on the fly since they made a bad retail bet and witnessed their sales fall as shoppers looked past the expensive 3D, as well as Internet television technologies this year.
However, the National Retail Federation is raising the electronic chain's holiday sales forecast this week. It seems that they may have an improved shopping season.
Best Buy lost their tech-lovers and shoppers to bigger merchants like Target, as well as an online shopping store Amazon.com this season since the store is giving out less discounts and promoting pricey 3D televisions.
The company acknowledged its mistakes on Tuesday when it revealed a fall in their quarterly sales. However, they are now promoting lower-priced televisions and making appropriate price adjustments in their computer sections after they have realized that shoppers are certainly showing inclination to the low end.
Reuters is also monitoring the strategies of several department stores this holiday. These stores include J.C Penney Co Inc, Kmart parents Sears Holding Corp, discount Target Corp, Toys R Us and Best Buy.
The sixth company that the news site had been following includes the teen apparel store, Aeropostale Inc. The merchandise store made a change of heart, and according to a media report, they are putting up a defense against the possible takeover bid.