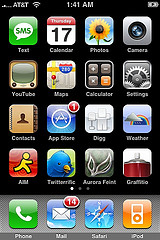 Losing weigh is an obstacle that many people come in contact with. It can be very hard to track your progress and monitor your habits all by yourself and doing both of those things are key to a successful weight loss. If you have an iPhone and are on the journey to lose weight there several apps that you can buy right from the app store that will help you to achieve all of your weight loss goals. All that you have to do is go to the app store and look at the apps about to be mentioned, download them and then begin monitoring your progress.
An app that is great in helping you to monitor your eating habits and calorie intake is, Lose It! With this app, everyday you record all of your meals, breakfast, lunch and dinner. The app knows the calories of must foods and will help you to keep count of your calories. The app claims that 85% of its users have lost weight.
Another app that will help you lose weight is, iPump Free Workout! Working out is one of the keys to losing weight. Not everyone can always make it to the gym so this app provides you with work out videos that you can do right from your home. There are two full body workouts with this app so you know you will be seeing results.
For those who like to walk for a workout then StepTrackLite is a great app for you. This app is a simple pedometer that will keep track of all of your steps.
All in all the iPhone is a great aid when it comes to losing weight. There are countless workout and calories tracking apps that will make your road to weight loss a stress free one. You are going to be more than satisfied with the results.