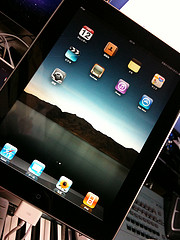 After months of speculations and expectations, the iPad 2 has finally arrived; however, Apple already confirmed that it will be sold online first. A lot of iPad enthusiasts breathe a sigh of relief as this means they can avoid the expected long lines in gadget stores.
If you do not have the patience to wait a couple days for shipping, the Apple iPad 2 will be available in all Apple stores, AT&T, Walmart, Verizon, Target, and Best Buy one day after its online release. Everyone who purchases the latest iPad in Apple retail stores will be delighted with free services; such as, e-mail set-up, applications, and more.
For those who will opt to order iPad 2 directly from the Apple official website, they will be given free shipping and an online exclusive offer of free iPad engraving.
Apple showcased a thinner, lighter and sleeker iPad 2 with a promise of faster performance. The new iPad also has rear and front camera for video chat; something its predecessor lacked. Tech bloggers especially enjoy the extended battery life, which has now reached 10 hours; and its smart cover.
However, iPad 2 fell short of a few people's expectations. Some complained that the unit does not have a crisp retina screen like that of an iPhone 4; while others noticed that it was not constructed with Corning Incorporated's Gorilla Glass Display which is a cause of dismay for many.
The 16GB Wi-Fi iPad 2 is priced at $499 while the 64GB Wi-Fi with 3G unit is sold for $829. The latest innovation in iPad comes in black and white.