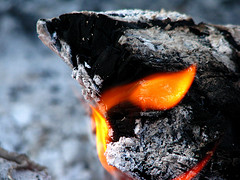 GRAHAM, Washington – An email apparently left by Josh Powell, to his attorney stating simply "I'm sorry, goodbye," was received shortly after Powell's home burned down, killing him and his two adolescent boys inside.
Powell's email revealed that his life had become anything but private over the past two years, ever since his wife disappeared. As he was the only suspect in the disappearance of his wife, the police along with the media had put Powell's life under such scrutiny that he couldn't live a normal life. The email he sent to his lawyer was received just a short time before he had set his home ablaze, authorities said.
The reason Powell decided to commit suicide and to kill his two sons was no doubt triggered after he was required to submit himself to psycho-sexual evaluation tests, and then denied custody of his boys. Firefighters and sheriffs working around the debris that was once a home found three bodies, the bodies are believed to be those of Powell and the two adolescent boys.
On Feb.5, a case worker from Child Services delivered the two boys to their father's home for a supervised home visit, but as soon as the boys got out of the car, they ran into the home. Josh Powell then closed the front door and locked it behind them, which prevented the case worker from entering.
The case worker had smelled gas coming from within the home and then an explosion had occurred causing the house to become engulfed in flames. The death of Josh Powell and that of his children has brought an unfortunate ending to an extremely public scandal, one that had begun with the disappearance of Susan Powell, in 2009, and ending in a horrific loss of innocent lives.