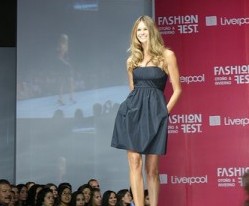 NBC announced that a new fashion show will be launched. The show features a reality competition for the next fashion designer. It attempts to discover a Fashion Star who will be given an opportunity to be America's next designer brand.
It will be produced by Lipstiz and Cutforth's Magical Elves Production Company, by Jane Lipsitz and Dan Cutforth; and Electus, by Ben Silverman. They are also the producers of Project Runway Runway show—also a reality show which discovers new fashion talents.
It will be hosted by Elle Macpherson, a former supermodel who have shown the fashion world her impeccable fashion sense in her 30 years experience in the industry. She's the current host of Britain's Next top model.
It is going to be a Project Runway-like show. The difference is if Project Runway focuses on high end fashion, Fashion Star will also focus on casual apparels. That includes dresses, denims and accessories. Another twist of the show is that, viewers can also purchase the winning designs in the stores or online.
The competition starts with 12 aspiring designers. They will be meeting several challenges weekly regarding both in fashion and business issues of the industry until one will become the "Fashion Star". Judges includes fashion designers and buyers which will not just serve as judges but mentors as well.