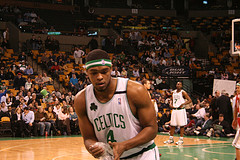 When this NBA season started, everyone was excited for a possible finals rematch between Lakers and Celtics. However, after their last few games, this possibility is already in jeopardy. Los Angeles Lakers were beaten on many of their games; and Boston Celtics did really badly.
Sure, this has already happened before so many times. Both teams do not perform well during the season, but they still end up neck-to-neck with each other during finals. Game analysts feel that they won't be able to work their magic this time. The Lakers may do something about it but the Celtics seems to be stuck.
Charles Barkley, TNT analyst, said that Celtics have lost a couple of bad games and they have not recovered since they traded off Kendrick Perkins. On Sunday, Boston landed on the third place when Miami beat them 100 to 77.
Barkley believes that the Celtics is wounded by the Perkins trade. He seemed to be the "identity" of the team, and with him gone, they are lost. Yes, Celtics played fairly well during the beginning of the season even when Perkins had to rest due to an injury but they were consoled by the fact that he could be back.
Regular season ends today and the team has three full days to regroup for the playoffs. Lakers may also be in trouble after losing all of their five last games but nobody's worried about them. Lakers have champs and they have veteran experience so they should be good.
No Eastern team can baffle Celtics but unless they pull themselves together and get their old spirits back, there will be no rematch after the playoffs.