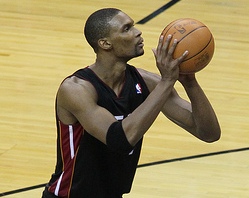 Bosh is back to the All-Star game as an Eastern Conference reserve along with Dwayne Wade and Lebron James. The announcement made on Thursday gave Miami Heat three players in the league's midseason showcase for the first time.
Some speculations were made about whether Bosh would get the vote for the All-Star team, but the Heat power forward never worried.
Bosh averaged 18.4 points and 8.1 rebounds before their Friday game in Charlotte. The figures were simply worth an All-Star consideration. However, his value to the team goes far deeper than what it appears on the stat sheets.
Coach Erik Spoelstra said James might be the reigning MVP in the league. But, Bosh is more significant to Miami. He called Bosh as their most important player. He secures defense and facilitates offense in the team.
This is Bosh's sixth All-Star trip in eight seasons- his fourth as a reserve. However, this vote came without any display of past appearances. Before the 2008 game, he filmed some videos that were posted in YouTube in an effort to attract fans to vote for him as a starter. This time, he simply sat back and waited for the official announcement.
The reserves were chosen by the head coaches in each conference. The head coaches had to vote for two guards, two forwards, a center and two players regardless of position.
The other East reserves that will accompany Bosh are Atlanta's Joe Johnson and Al Horford. Kevin Garnett, Karl Malone, Jeremy West and Shaquille O'Neal were selected for the 14th straight year. Ray Allen, Paul Pierce and Rajon Rondo will also accompany their Boston Celtics teammate.
For the West, the reserves are San Antionio Spurs' Tim Duncan and Manu Ginobili. Forwards Pau Gasol of Los Angeles Lakers and Dirk Nowitzki of Dallas, and guards Rusell Westbrook of Oklahoma City and Deron Williams of Utah. Westbrook joins Blake Griifin of Los Angeles Clippers as the lone fist-time selections.
The game will be held on Feb. 20 at Los Angeles.