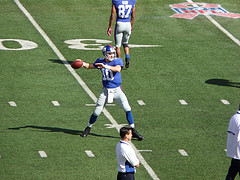 After a crazy season that nearly had the New York Giants missing the playoffs, Eli Manning led them to a come from behind win against the New England Patriots in Super Bowl 46.
The fourth quarter touchdown drive solidified Manning as MVP of the game for the second time and put the Giants on the verge of becoming a dynasty, with two titles in four years.
Eli Manning went 30 for 40 passing for 296 yards, with one touchdown pass and no turn overs. Manning handled himself just as he had all season long, cool and calm as if nothing bothered him. He even broke a Super Bowl record along the way, opening the game with nine straight completions.
Mario Manningham made an unbelievable catch along the sideline, thanks to a perfectly thrown ball by Eli Manning and managed to stay inbounds on the first play of the 88 yard game winning drive. The Patriots challenged the play but it was upheld when the replay showed he did have both feet down and control of the ball.
Now all the talk of Eli Manning being elite or not can be put to rest. With this performance and the way that it happened, as well as where it happened, there can be no doubt that Eli belongs in the same class as Brady and his brother Peyton.
Manning is now one of only five players in the history of the game to have multiple Super Bowl MVP's. He joins Tom Brady who the Giants have now beaten twice in the big game, along with Terry Bradshaw, Bart Starr and Joe Montana. All whom are either hall of fame players or will be by the time they retire.