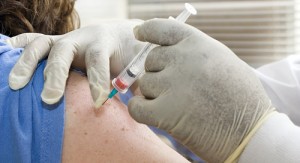 The Centers for Disease Control and Prevention encourages everyone to get repeat flu shots for the coming flu seasons. However, vaccine makers suggest that some people may not necessarily need another flu vaccine this year.
Makers of flu vaccine say the shots this year will be the same as last year's since identical strains of the virus are still going around the environment. Some experts say young and healthy people may still have adequate protection from the flu shot obtained last fall. Thus, they may skip getting it once more for this season.
However, health officials from the government say the protection offered by flu vaccines can significantly fade after some months, particularly in weak and elderly people. In fact, they are persuading everyone to get their repeat shots this year.
Vaccine makers announced that there will be plenty of flu shots coming in 2011. They said there will be enough for more than 50 percent of the population. Five manufacturers announced a couple of weeks ago that they are planning to make 166 to 173 million flu doses this year.
In the United States, the demand for flu shots has been increasing as well. Over 40 percent of the U.S. population received flu vaccines in the past 10 months, leading to a successive year when vaccinations were at a very high level.
While it is not clear whether repeat shot is needed or not, other experts believe that the position of CDC is the best possible course. Dr. Arnold Monto, a flu expert from University of Michigan, said that getting another flu vaccine is definitely not going to harm everybody.