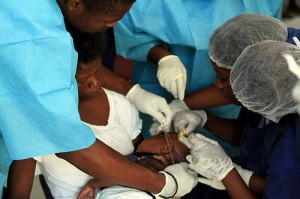 An outbreak of suspected cholera had killed nearly 140 people in central Haiti according to the Haitian health officials on Thursday. Since the January 12 earthquake, this is the country's biggest medical crisis.
The Haitian health authorities had already informed the World Health Organization regarding their 138 deaths and about 1,526 cases so far in the outbreak that is centered on Lower Artibonite region, north of the Port-au-Prince capital. Some cases were also listed in the area of Central Plateau.
Local hospitals in Haiti were overwhelmed with the tremendous  number of patients admitted, most of which are suffering from acute diarrhea. The Haitian officials informed that the victims are rapidly dying from dehydration in just a matter of hours.
Medical teams that have been giving assistance to Haiti since the disaster that occurred on January 12 have set out to the outbreak area.
However, the World Health Organization, as well as the United Nations could not confirm yet if the cause of the outbreak is cholera. They are still waiting for the final results of the laboratory tests that were taken from the samples of the dead and sick victim.
But, Dr. Gabriel Thimote, the Haitian Health Department Director General and Alex Larsen, the Health Minister said that the initial testing suggested cholera even though Haiti does not have any history of recent cholera outbreaks.
Cholera is a disease transmitted through contaminated water and food. This causes watery diarrhea and severe dehydration, which can kill in few hours when not immediately treated.
Yet, experts say that there are about 80 percent of cholera cases that can be successfully treated through oral rehydration salts. However, safe water and good sanitation are still important to help reduce the cases of cholera and other waterborne diseases.