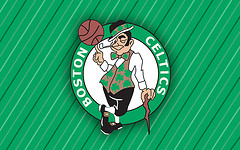 In this year's NBA All Star Game one team from the Eastern Conference is more heavily represented than any other team in the game; the Boston Celtics. But there's one notable stipulation. None of the four Celtics on the roster are listed as starters. The All Star Bostonians include; Ray Allen, Kevin Garnett, Paul Pierce, and Rajon Rondo.
But despite the fact that none of the Celtics are listed as starters in the game, Boston's regular season has been going just fine. Going into the All Star game the team has the best record in the NBA with a win percentage of 74.1%. All four Celtic players have been doing their part on their own team this year. Allen has been averaging more than 17 points a game, Garnett puts away nearly 15 points per game, Pierce contributes nearly 19 points per game. and Rondo has been adding nearly 11 points.
By comparison, LeBron James of the Miami Heat averages 26.1 points per game. In any sport there is always some debate over what is more effective in the end, superstar scorers like James or more even scoring and teamwork like the Celtics. The Heat happens to be right on Boston's tail in the regular season with a win percentage of 73.2%.
While being selected to the All Star team is certainly an honor; it's the regular season that will really show the strength of your team. Whether starting on the court or on the bench the rosters on both sides look great, fans have a great game of basketball in store.