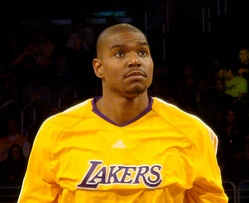 Los Angeles Lakers center, Andrew Bynum informed the public through LakersTV that he might be missing NBA's first month of the season due to his undergoing rehabilitation for his right arthroscopic surgery.
Bynum had primarily hoped for his full recovery by the commencement of the NBA 2010-2011 season on October 26, 2010. However, his doctors advised him to give more time for his knee's rehabilitation.
In the middle of the 2007-2008 season, this seven-foot center had suffered from a left kneecap injury where he then missed the rest of the NBA season and playoffs. He was able to come back at the start of 2008-2009 season, but on January 2009 he had incurred another injury on his right knee.
Andrew Bynum had his surgery last July 28th to repair the injury on his right knee. He had a tear on his right lateral meniscus, a band of fibrous cartilage that is connected to the bone. His doctors say that he will need another four weeks for complete recovery and he will be back to train again.
The Los Angeles Lakers had won the NBA championship last season against the Boston Celtics, and this was Bynum's second championship as part of the team.
Bynum hopes that he will be back on the court by the end of November. That will give him two months for rehabilitation, which is just enough according to the player.
Several fans are looking forward to Bynum's comeback at NBA together with his team, the Los Angeles Lakers.