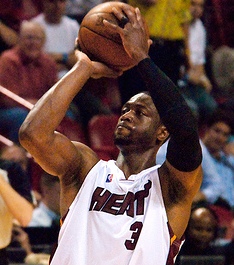 Miami Heat beat the New York Knicks with a final score of 106-98 on Tuesday. This is the 15th win for the Heat in 16 games.
Miami's shooting and point guard Dwayne Wade scored 40 points that helped the Heat beat the Knicks durring the game.
After the first quarter, the Heat gained a 34-18 advantage with the assistance of LeBron James' spectacular game.
However, it was one of Miami's less commended player that made a dominant role in the early part of the game. Lithuanian center Zydrunas Ilgauskas scored 12 points and grabbed nine rebounds in the first quarter.
Miami head coach Erik Spoelstra told Big Z that he would have possibly made a 28 point and 17-rebound game only if he had a coach that would have placed him back in the game. He played very efficiently and more minutes than they had planned.
Wade took the leading role in the second quarter. He finished the first half with 17 points and the Heat had a comfortable 53-40 advantage at halftime.
In the third quarter, the New York Knicks were able to move up to 61-55, but that only encouraged further dominance by Miami's Wade and Chris Bosh.
The New York Knicks, which are known for their determination to win games, fought back until there were two minutes left for them to score a three-point shot to tie the game. The Knicks were trailing behind from 97-94 score.
Spoelstra said that he warned his team abut the New York's trademark determination. He told the team that their 22-point lead against the Knicks is only equivalent to seven-point lead against some other teams.
However, Miami's "big three" James, Wade and Bosh made a turn to ensure that the late scare will not become a shock.
Miami followed behind the Boston Celtics at the top of the Eastern Conference while Knicks slipped lower.