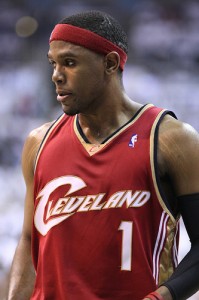 Cleveland point guard Daniel Gibson will be missing the Cavalier's upcoming game road trip because of his sprained left ankle, his team said. This incident apparently added to the Cavalier's last-place problem in the NBA playoffs.
Gibson is the team's third-leading scorer. He is also a top player when it comes to defending the court. He injured his ankle while playing against Toronto, where they had 120-105 loss, last Wednesday.
The Cavaliers are currently hitting the rock-bottom as forwards Joey Graham and Leon Powe will also be missing the trip because of injury. The five-game road trip will begin on Friday in the Golden State.
The Cavaliers have been struggling since LeBron James left the team during the off-season to join the Miami Heat.
First, they lost ten games in a row. Currently, the team is in the middle of an eight-game losing streak with a crucial five-game road trip to begin.
They played poorly in most of their games. They had the most permeable defense in the season, and they have allowed opponents to make a record-setting number of shots.
Gibson badly injured his ankle and needs to stay in Cleveland to rest and recuperate, according to coach Bryon Scott. Gibson, in his Twitter account, said that his ankle was as "fat as a pterodactyl egg".
However, it is still unknown for how long his recovery will take.
The Cavaliers already have the worst record in the NBA. They previously had a 10-game losing streak before they defeated the New York Knicks last December 18, which was the team's last win.