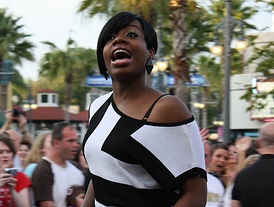 Fantasia Barrino went back to the 'American Idol' stage on Thursday to perform her latest single 'Collard Greens and Cornbread' from her third album, 'Back to Me.'
The 'American Idol' alumnus was wearing a sparkly red dress with a slit all the way up to her waist. Her hair is nearly blonde and curled up in front that fits the old-school sound of her single.
Fantasia said 'Collard Greens and Cornbread' is one of her favorite songs from her latest album. At the end of her performance, she said "Steven, I love you," which was directed to Steven Styler, one of this season's 'Idol' judge.
The night also featured other performances from Jamie Foxx and will.i.am, which brought the song 'Hot Wings' from the soundtrack of the upcoming movie 'Rio.'
Barrino won the 'American Idol' title in 2004. She went through different triumphs and tribulations after winning the reality show and singing competition. Her recent scandal involved a cheating case between her ex-boyfriend Antwaun Cook and his wife Paula.
She o attempted suicide when she was about to promote her album. Barrino broke up with Cook and judge cleared her of a wrongdoing case filed by her ex-boyfriend's wife.
On the show, two contestants were eliminated since Casey was saved last week. Naimi and Thia were sent home after their unspectacular performance of Katy Perry's 'Teenage Dream.'
Several 'Idol' alumni have returned to the familiar stage since they made it big. Some of them include Kelly Clarkson, Adam Lambert and Jennifer Hudson. Hudson performed on the show last week, singing her single 'Where You At."