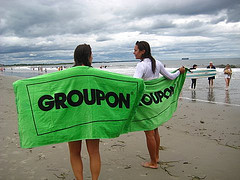 In a move unexpected by experts, and unusual for Internet base IPOs; Groupon (GRPN on NASDAQ) fell below its initial price after only 21 days of trading. The Chicago based company, which acts as a local e-commerce marketplace connecting consumers with discounts thorough daily emails, began trading on November 7th, 2011 at more than $25.00 per share. At the close of business on November 28th, the stock was trading at less than $15.25 per share.
The stock was able to maintain its value for several trading days after the initial offering but began to show signs of instability as early as November 14, when CNBC reported it had been given a "sell" rating by Northcoast. Despite the poor rating, Groupon continued to maintain its value until November, 22 when it first dipped below the initial offering price of twenty dollars per share. Any thought of a rebound was squashed following a Wall Street Journal article on November 25 indicating that the company had failed to show any long term profitability. Despite the negative outlook imposed upon the company, several trading experts have listed them as a stock to "watch".
The recent fall is concerning for Groupon as it struggles to hold onto a market valuation of approximately $10 billion. This comes shortly after the company rejected a $6 billion dollar buyout offer from Google prior to the IPO. Analysts have cited strong competition from sites like Living Social, which recently expanded its offerings to include gift cards, while Groupon maintained its model. As of 3 PM today, the stock had rebounded up 0.87% and was trading just over $16.00 per share.