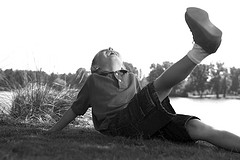 When Dian Granito started as the events manager for New Mexico's Children Youth and Families Department, she was asked to review the pictures of all the children available for adoption. The first thing she noticed was how ugly the picture quality was. She immediately realized that in order to draw more people to adopt children, the photos have to be improved.
Granito thought back then that a large-scale art show would definitely help spread the word and so she invited the state's most talented photographers to capture the beauty and spirit of the children. This weekend is the 10th year anniversary of the Heart Gallery.
At present, there are already 130 Heart Gallery organizations nationwide and two other recently started in Canada. Granito also launched Heart Gallery of America, a national organization, with the hopes of expanding in Europe.
Her very first exhibition broke gallery records when they attracted at least 1,200 people in a single night. Granito said that when she walked in the gallery for the first time and saw how the pictures captured the beauty and youth of the children, she knew they were on to something.
True to what she expected, six children were matched with foster families on the first night. One of the six children was adopted by the photographer who took their portraits.
In a matter of years, news about the success of Heart Gallery spread like wildfire and 5,000 children have been adopted because of the program. Garito said that it was all about getting the message across. She added that the portraits hold so much power that they have helped the children get out of the shadows.