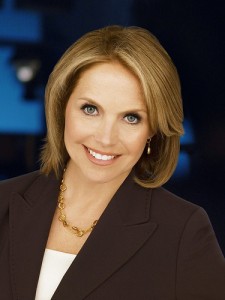 Katie Couric, the pioneering solo female anchor of an evening news show, announced on Tuesday that she is saying goodbye to the CBS Evening News. The news program is the first evening news show of the network.
54-year old Couric said that she is leaving CBS following five and a half years of success to pursue other and bigger opportunities. She further said that she is confident that the evening show she will leave behind is in good hands. Also, the anchor is very excited about her future undertakings.
She said that she is talking to executives regarding a new TV show but refused to talk about it in detail. Couric said she loves doing a wide variety of different stories and she is looking for a show that will allow her to emerge in a more multi-dimensional media.
The anchor took over CBS Evening News following veterans Walter Cronkite and Dan Rather in September of 2008. However, she failed to pull up the ratings of the show to match rivals ABC and NBC in the ratings.
The evening news, which was once the highlight of evening television in America, slowly but steadily lost audience share due to 24-hour television and up-to-date news over the Internet.
Couric joined CBS after a quarter of a decade presenting "Today", which is NBC's most high rating news show in the morning. Since Couric joined the CBS and started the trend of having solo female anchors, ABC also added Diane Sawyer to their evening news program.