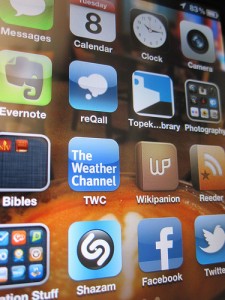 More than one out of three smartphone owners utilize their phones at the same time as watching television. Almost half of the entire users spend their time logged in to social networking sites such as Twitter and Facebook.
However, most of them access various apps that are particularly designed for TV lovers. The site showed five best smartphone applications for TV fanatics, this include GetGlue, IMDB Mobile, Shazam, TV.com Mobile, and InToNow.
GetGlue is the best social networking site for individuals who love to watch television. It is an application that rewards users for tuning-in on real time shows. Users have to check-in to avail of the digital stickers offered by the application. These stickers can be used to get a free hard copy set from the website itself.
The second best smartphone application for TV lovers includes IMDB Mobile. This app allows smartphone users to look up the names of several actors. It can also check on what's showing on a particular time through the use of Popular TV. It also provides pocket-sized recaps of the latest episode aired on popular shows.
Since most of the TV shows use soundtracks, many people would likely want to hear that song again. Thus, Shazam is the appropriate app for this. Shazam will listen to the song while it is playing on TV. It will tell the title of the song and the singer behind it.
TV.com app is excellent for smartphone users, who are a fan of The CW or CBS. The app is filled with premium videos, including interviews, clips and full episodes of the TV programs from the CBS library. However, this app requires a high-end phone to function well.
Lastly, InToNow is a similar app as GetGlue. However, it isn't that user-friendly. What's good about it is that it gets the details of the show the user is watching through speech recognition tool. This app is not as fast as GetGlue, but it is more entertaining.