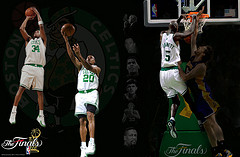 For 47 minutes New York Knicks were on the edge of vindication, Sunday Night. However, with 11.4 seconds left on the clock, Ray Allen of Boston Celtics hit a 3-point shot and drove his team to victory, 87-85.
After Allen shot the 3-pointer, Knicks hurriedly went down their side of the court to claim what they lost. Carmelo Anthony, however, missed his supposed game-winning 3 point shot. Anthony is the superstar Knicks got after a trade in February.
The Knicks had a strong start in the first game of the Eastern Conference playoffs. They even had a 12-point lead over Celtics at one point during the game. Knicks dominated the Celtics; Amar'e Stoudemire was even able to carve through the usually solid defense techniques of the Celtics. However, Allen's 3-point shot did wonders for his team.
The last few minutes of the game kept viewers at the edge of their seats. With 37.8 seconds left on the clock, Toney Douglas hit a 3-pointer placing them on a 3-point lead over Celtics at 85-82. Rajon Rondo, Celtics point guard, inbounded an alley-oop to Garnett for a dunk which made them only one point away from a tied score with Knicks. Allen led the team with a 3-point shoot with only 11 minutes left.
With no remaining timeouts, Anthony tried to redeem their team but missed what could have been their winning shot.
Knicks' coach D'Antoni said that they will make big plays during the rest of the playoffs. Anthony also said that the team did great on most parts of the game so he is still excited about the series.