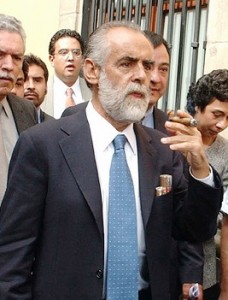 Diego Fernandez de Cevallos, a well-known former presidential candidate in Mexico, was freed after being held in seven months of captivity by an unknown group.
A member of President Felipe Calderon's National Action Party, Fernandez talked to the media waiting in front of his house in Mexico City on Monday.
The former PAN Senator thanked God that he is fine. During the interview he was seen having a beard that turned entirely white during his captivity. He also added that he is strong and his life will continue being the same.
Fernandez was kidnapped in May when he arrived at his ranch in central Mexico late at night. His car was found with some of his items inside, and a pair of scissors with blood stains was left on the ground nearby.
After a few months, abductors released photos to selected media showing a blindfolded and bearded man who looks extremely similar to Fernandez. This is an evident move to pressure the family of the politician to pay for his freedom.
According to authorities, there were no indications whether Fernandez' captors have any links to drugs, as well as previous kidnapping for ransom.
Fernandez said in an instant news conference in the driveway of one of his houses in Mexico City that he had forgiven his captors, but the authorities should still get them.
Prosecutors said they continue the investigation that was stopped at the request of his family the day after he was kidnapped. Calderon also congratulated Fernandez on his release.
Fernandez is known for his open personality, which is often called "Jeje Diego" that means, Boss Diego. He played an important role in strengthening the PAN in the run-up.