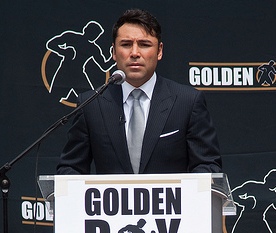 Oscar De La Hoya entered a drug rehab facility to address a problem on substance abuse, a celebrity news site reported on Saturday. TMZ.com released very few details about the admission, saying only that De La Hoya had gone into a facility in California.
Reports speculate that someone working at the rehabilitative facility leaked the information about the former boxer entering the institution.
Oscar De La Hoya, 38, has always been known for his clean image in and out of the ring. His business ventures after his fighting career has been very successful. Thus, recent reports about his alleged substance abuse problems were quite surprising to many people.
On May 12, De La Hoya wrote some contemplative tweets on the social networking site that indicate a recent battle he has endured. The promoter said on his Twitter account that it is impossible to conceal the truth, and one's sins will be eventually revealed.
Over the weekend, the retired legendary boxer responded over TMZ.com's report and said that he was in a rehab facility for substance abuse. However, the statement did not directly validate whether De La Hoya was in rehab, yet he acknowledged that he was battling with some issues and had flaws that he needs to work on.
The Mexican-American fighter retired in 2009. He had an exceptional boxing career with a 39-6 record. His last fight was against Manny Pacquiao whom he had lost to on a technical knockout on the eight-round in 2008.
De La Hoya also made the headlines in 2007 when photos of him were released in the media. However, experts validated that the photos were fabricated and not real the following year.