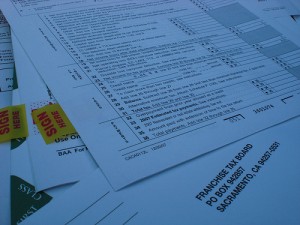 The administration of President Obama is taking into consideration a plan that would oblige more businesses to pay the corporate income tax in a reform that might be released earlier this month, an industry group said on Monday.
The tax reform proposal entitles businesses with gross receipts more than $50 million to pay the corporate income tax in lieu of the individual income tax. In this case, business partnerships such as hedge firms and law firms are likely to be most affected.
According to a letter from Mary Lyman, the executive director of National Association of Publicly Traded Partnerships, the proposal includes corporate taxation for $50 million or more pass-through entity gross receipts.
Pass-through entities mean both income and tax liability are being carried on by the individual, instead of the company. Although the highest corporate tax rate is currently equal to the highest individual tax rate, several firms still have income tax at lower rates for capital gains.
The reform is being worked by the Treasury Department staff. While cutting on credits and deductions, the U.S. administration is creating a plan to cut down the 35 percent corporate tax rate. It is currently the highest rate for corporate tax in the entire world.
According to a source, details about the reform could materialize as early as this month. Several lawmakers are against the corporate tax reform alone. However, Lyman believes several businesses would object to the plans that would force them to pay corporate taxes as well.