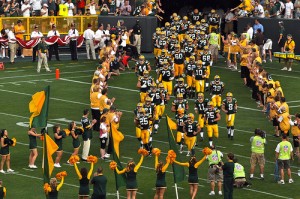 The original Super Bowl champions are back. Last Sunday, the Green Bay Packers defeated the Pittsburgh Steelers 31-25 to win the Super Bowl held at Cowboys Stadium.
Packers have won four Super Bowl titles since the 1960s. However, this is their first since 1997 when they still had Brett Favre as their quarter back. In the late 1960s, they won their first two Super Bowl titles with their coach, Vince Lombardi.
Pittsburgh was supposed to get their third title in six seasons, but that goal reached an end when Ben Roethlisberger's fourth-down pass was incomplete in the final minute.
Before halftime, Jennings' 21-yard TD had placed Green Bay up 21-3. Early in the fourth quarter, Jennings' 8-yard TD made it 28-17.
The Steelers responded along with Roethlisberger tossing a 25-yard TD pass to Mike Wallace with only 7 minutes, 34 seconds left. Pittsburgh went for two. Taking a pitch into end zone, Andtwaan Randle El cut the gap to a field goal.
Aaron Rodgers finished 24 of 39 for 309 yards with three touchdowns. Roethlisberger was 25 0f 40 for 263 yards with two interceptions and two touchdowns in the first half.
Green Bay had three penalties and a punt in the second half. Pittsburgh had 50 yards in five plays. Rashard Mendenhall made a 17-yard run to the end zone from 8-yards to score 21-17.
The Steelers missed an opportunity to get closer when Shaun Suisham's goal attempt was wide left on a 52-yard field late in the third quarter. It came after Frank Zombo sacked Roethlisberger, whose first touchdown pass came before the 32-minute halftime break that highlighted the performance of the Black Eyed Peas. Special appearances were made by R&B star Usher and former Guns 'N Roses guitarist Slash.
Jarret Bush made an interception near midfield before Jennings made his first TD catch. Nick Collins returned the other interception made by Roethlisberger 37 yards for a touchdown.