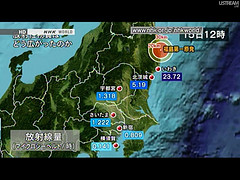 The US announced late last night that they are chartering at least a couple of flight out of japan.  This is not a mandatory evacuation but only a voluntary one.  The US Government wants US Diplomats and their families currently in Japan to have a way home if they would like to do so.
The areas of Japan where US personnel are currently located are the US Embassy in Tokyo, the US Consulate in Nagoya and the Foreign Service Institute int Yakohama.
This Voluntary evacuation is also being extended to any US citizens currently in Japan as well. There is limited seating, so US citizens are encouraged to call ahead at 1-212-501-4444 or email [email protected] US Citizens can also just show up at the airport and try to get a seat as well.
So far there is at least one Charter plane going to both the New International Airport in Tokyo and the Old International Airport in Haneda.
Priority will be given to US Citizens with medical conditions.
Also announce last night was the US Nuclear Regulatory Committee's recommendation that US Citizens and personnel evacuate to at least 50 miles from the Fukushima power plant site. This is contradictory information from the Japanese Government who is recommending only a 12 mile evacuation.