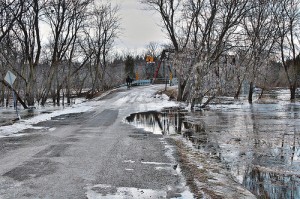 Streams and rivers are overflowing because of melting snow.  Additional rainfall on top of that  poured some flood waters into communities along Ohio, Indiana and Illinois on Tuesday. The flood killed one woman as her vehicle was brushed into a river.
There were four deaths when a storm struck Tennessee. Authorities said flash floods also hit the eastern mountainous part of the state.
The region was lashed with high winds and a five-inch rainfall brought about by the strong storms since Sunday. It added to the run-off from the melting ice and snow, which pushed the rivers off their banks.
In Ohio, several people had to be rescued on Friday as flood waters from the overflowing Blanchard River submerged residential neighborhoods, as well as part of the downtown area.
The river crested in the early hours of Tuesday. It was progressively receding while the city was out of danger as opposed to the worst floods experienced in 2007 and 2008, said Mayor Pete Sehnert via telephone.
Electricity and water services were available in Findlay. Yet, several businesses and schools were closed, according to Sehnert. The city separated its fire and police personnel on both sides of the river in preparation for the bridges to shut down.
The National Weather Service reported that overflowing creeks and rivers in Ohio, Illinois and Indiana flooded some homes, farmland, golf courses and roads. The weather agency gave several flood warnings, taking note of some rivers that had yet to crest.
Tamara McBride, from Ohio Emergency Management Agency, said 700 people were evacuated from their homes across northern Ohio.