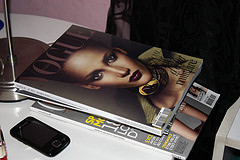 In case you don't know Anna Wintour—chief editor of Vogue magazine since 1988, she is the most influential person in the fashion world. Her world exceeds beyond fashion and also to business, entertainment and politics —she's actually a peer among the likes of Oprah and Martha.
Her name may not be as widely known as Oprah Winfrey and Martha Stewart but as editor-in-chief of vogue magazine, she might still be influencing unsuspected costumers, designers, shops, celebrities and people. Her words, thoughts and ideals as presented in Vogue are read and acquired by consumers and trendsetters alike.
Hence WSJ magazine, a glossy lifestyle magazine, features Wintour in its cover article for April talking about her prestige and powerful influence in the fashion industry. It's a very rare interview since only few know her behind the pages of her fashion magazine.
She's really a powerful person in America. This statement is also said by the editor of WSJ Deborah Needleman. As quoted by Jacobs in the article, "If I get a request for something, there aren't two possible answers. First I get an email, then a phone call from someone at Vogue, and now I don't even bother to say no—I know the next call is from her."
Jacob is one of the people who benefited from Wintour's influence. When Louis Vuiton was looking for a designer in 1997, she suggested Jacob's name to the brand's CEO.
But aside from that, there have been many fashion events launched by Wintour including the big event Fashion Night Out in 2009 and 2010 in New York. Despite the financial crisis, she persuaded stores to spend for parties. She managed to mix stores, celebrities and shoppers in an ultimate shopping night out and dig into their wallet despite the recession. With that, she basically created a holiday. According to Needleman "Who else has the power to take New York and create a holiday?"
Do you remember the movie "The Devil Wears Prada"? She is the inspiration behind the character Miranda Presley. She may be the Ice Queen but among her close friends including Karl Lagerfeld, Marc Jacobs, Oscar dela Renta, Nicole Kidman and many others, she can be warm and loyal. And a lot of people want to get into Wintour's inner circle of friends.