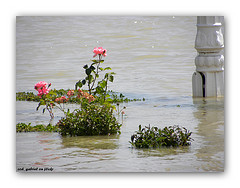 On Tuesday, a surge of floodwaters threatened to unearth levees that protect the thousands of houses in the Midwest. The water rose so fast, the residents did not even have enough time to defend their houses with piled sandbags.
An average of a foot of rain was unleashed across the region and the weather forecast indicates that the storms will not dwindle down anytime soon. In fact, a bigger storm is expected to pass by the same path and heavy rain and tornadoes are expected.
However, among the areas in the Midwest, it is southern Missouri that faces the gravest threat for heavy flooding. Poplar Bluff, a town in Missouri with at least 17,000 residents received a total of six inches of heavy rain on Monday alone. The storms were so strong that by midday, the flood wall in the area was breached which allowed water to surge through.
In a nearby area, officials are contemplating on the idea of blowing up one levee just to lower down the pressure on others. Mark Dodd, Butler County Sheriff, said that at present, they have already evacuated at least a thousand families; and they are still planning to evacuate more people.
Terry Jones, a resident of Poplar Bluff who lives with her granddaughter who is still 12 years old, went to St. Louis for her sister's funeral. When she got home, her front porch and living room are already flooded.
Workers in the street department of Poplar Bluff are already working double time, securing a couple of danger spots in the levees where water seepage is expected.