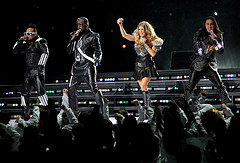 Retailer Aeropostale, Inc. is tehming up with Black Eyed Peas for charity.  The company will be selling limited edition T-shirts designed by the multi award winning artists the Black Eyed Peas. The shirts also comes with a free CD. They will be sold exclusively at Aeropostale stores during the first 2 weeks of April. Proceeds will go to the Black Eyed Peas peapod foundation for the children around the globe. The company guaranteed $100,000 to the organization.
Aside from the free CD, they have also given a once-in-a-lifetime opportunity to see the Black Eyed Peas. They gave out free tickets to those who purchased t-shirts between 10:00 am to 1:00pm last Saturday, April 2, 2011. The tickets were for a special Black Eyed Peas concert prepared for this project.
Aeropostale is known for their charitable events. Their collaboration with the Black Eyed Peas have created a perfect partnership. The Peapod foundation was founded by Black Eyed Peas and Polo Molina of Grassroots Productions. They aim to promote self expression through music and art. Aside from that, they also provide answers to children's concerns like providing shelter and responding to problems such as starvation, education and poverty.