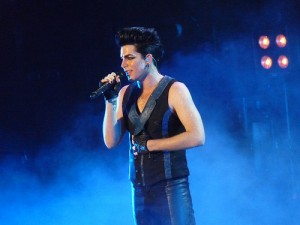 Adam Lambert, singer and actor from California, made a recent comeback on "American Idol" last Thursday. He performed his acoustic version of the song "Aftermath" on the same stage that brought him to fame a couple of years ago.
Earlier this year, several Adam Lambert fans have started to question when his new version of the song "Aftermath" will be released. Rumors have leaked passed Lambert's birthday party in late January. Since then, few details have been released about the former "American Idol" contestant's song.
On Thursday, Lambert returned to "American Idol" to perform the acoustic rendition of "Aftermath." According to Lambert, the message of the song is about being true and honest to one self and to others. He said, it is about overcoming a difficult decision or taking the steps no matter how scary that is.
With the release of his song "Aftermath," Lambert also helps an organization dedicated to prevent suicide among youths. For every download sold, the song's proceeds will go to The Trevor Project. This provides life-line to several kids and teens on LGBTQ.
During an interview held after Lambert's performance on "Idol," he also commented on the recent issues involving Lady Gaga and her actions on the LGBT policy. He believes everyone has the right to do what he or she wants. But, he still thinks Lady Gaga is fantastic and that she has been doing great.
Lambert's latest single "Aftermath" remix can be purchased exclusively on his official website. The song has a much more "dance" feel than the first version recorded for Lambert's "For Your Entertainment" debut.