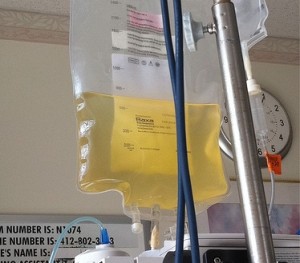 Nine patients from different hospitals have died in Alabama after they have received an intravenous nutrition therapy. Health officials say the feeding bags that were given to the patients were contaminated with a certain bacteria.
The bacteria, identified as Serratia marcenscens, were first discovered in the patients before authorities performed cultures on the intravenous infusion called total parenteral nutrition or TPN.
The bacterial outbreak affected 19 patients from six hospitals in Alabama. However, it was still unclear whether the bacteria caused the patients' deaths. Out of the 19 patients who have received the parenteral nutrition, nine of them have died.
Total parenteral nutrition is an artificial method of giving feeding solution through injection. Infection is the most common complication of TPN and deaths usually arise from shock.
An investigation was instigated on March 16 when two Alabama hospitals reported unusual case of bacterial infection in highly susceptible patients. The Centers for Disease and Control Prevention is also helping with the investigation along with Alabama Department of Public Health.
The hospitals affected include Cooper Green Mercy, Baptist Prattville, Baptist Princeton, Baptist Shelby, Medical West and Select Specialty Hospital in Birmingham.
The product has been withdrawn from the market on Thursday. The manufacturer of the feeding bag has not commented yet. Officials say the feeding products no longer pose threat while investigation is focused on how to prevent such incident in the future.
The 10 infected patients who survived from the outbreak are still admitted and being  monitored in the hospital, health officials said on Tuesday.