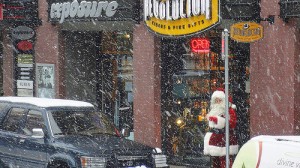 A blizzard that hit the Northeast on Sunday and Monday cost retailers $1 billion in sales according to the recent estimates done by the shopper-traffic counting technology data analysis company, ShopperTrak.
ShopperTrak also found that the foot traffic recorded on December 26 was 11.2% down from what they had previously forecasted as reported by CNN Money.
A blizzard can cost governments, as well as businesses excessive amounts of money. It is considered more than inconvenient. When the roads are covered with snow, most shoppers stay at home like what happened in the Northeast over the past few days.
According to ShopperTrack founder Bill Martin, it was expected that the 2010 blizzard which stretched over the Northeast halted almost all retail visits and spending during a time that is somewhat crucial for all retailers.
He also added that based on their analysis, Northeast stores and malls dropped over 6% from last year's day after Christmas, and almost dropped 43% on Monday during the time when most potential shoppers were nearly snowed.
At this point, Martin explained that the thought of briefly halting potential $1 billion sales might cause the collective industry to hold its breath. But, he noted that foot traffic on other regions of the country was up by almost 40% on Sunday and 13% on Monday.
Another point to consider is the fact that there might be more and more shoppers that are buying online. This means that a downturn in the brick and mortar stores does not necessarily mean a decrease in overall sales.