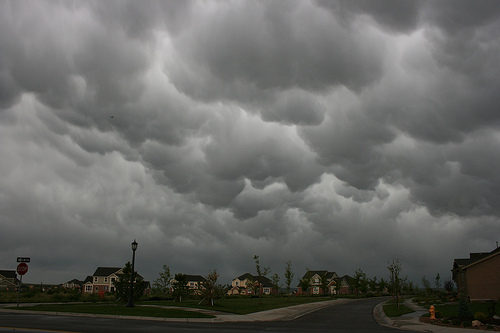 Suspected tornadoes masked by heavy thunderstorms and rain swept through central Florida on Thursday. The dangerous tornadoes flipped cars, damaged buildings and houses, and caused temporary loss of power in some parts of the region, officials said.
Most people affected only suffered minor injuries such as bruises and bumps.
Seventy people, who had gathered for the Sun 'n' Fun Aviation Fair, were temporarily trapped inside a tent at the Lakeland Linder Regional Airport. The tent collapsed as strong winds and heavy rains made its way through the exhibit. The storm damaged several aircraft, which included vintage biplanes and some larger planes.
The winds were reportedly rushing at 90 miles per hour in Tampa. Emergency crews from Polk County rapidly responded to the incident and freed the people who were trapped, officials said.
Injured people were brought to and treated at the Lakeland Hospital, director of Polk County emergency management Pete McNally said.
Severe storms hit the country since Wednesday. Meteorologists from National Weather Service said a tornado swept north of Tampa and a larger one came from the Gulf of Mexico and raked across Florida Peninsula.
Strong winds damaged 60,000 to 80,000 homes and buildings. On Wednesday, winds reportedly blew a cruise ship from its dock and flipped a tractor trailer in separate parts of the country.
According to the National Climatic Data Center, Florida encounters the third most tornadoes in the United States per year. Annually, it experiences about 55 tornadoes. The most fatal tornado occurred in Florida in 2008.