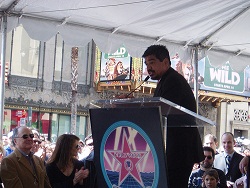 After getting the best score in Dancing with the Stars, Kirstie Alley is now dancing with George Lopez to the tune of war music. George Lopez said to have made fun of her performance saying that she can be akin to the three little pigs that went to the market, further saying that she had roast beef prior to the show.
Kirstie Alley has long been the talk of the twitter town mainly because of her weight problems. She admittedly gained back on 2009 all the pounds she shed in 2006. After her intense feeling of self-loath, she sprung back and decided to lose weight again. To present, she is still trying to keep the extra pounds off but have not regained her swimsuit body just yet.
George Lopez, who immediately felt guilty after saying what he said about Kirstie Alley, twitted her saying that he is sorry and he misjudged the joke.
Alley, who was not at all delighted to have been compared to no less than a pig, refused to accept the apology and asked for his kidney instead. She further said that she does not consider "I misjudged the joke" a proper apology.
Many people say that it was classless of Lopez to insult Alley and hit her where it hurt. However, experts said that Alley should have just let this one slide as she has allowed Lopez to share some of the light that is shining unto her right now.