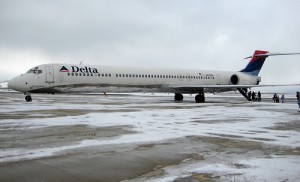 A flight from Delta Air Lines made an emergency landing over Florida last Sunday when the aircraft experienced an engine failure. Authorities said the plane landed with no injuries to the passengers or crew on board.
The Delta Flight 1846 was a Boeing 737-800. It had 119 passengers, with six crews on board. According to Anthony Black, the Delta spokesman, the plane was bound for Minneapolis. It had an engine failure soon after it took off from the city of Fort Lauderdale at around 7:30 in the morning, local time.
Black said the captain received a warning indicating possible damage to one of its engines while they were taking off. The captain shut down the engine as a precautionary measure and decided to go back to the airport.
In the Fort Lauderdale airport, the plane landed safely and without any incident. The passengers were brought back to the gate while the plane was examined by fire rescue and aircraft officials, said spokesman Allan Siegel from Florida Aviation Department.
Siegel added that representatives from the Broward Country Sheriff's Office then found several pieces of what seems to be parts of the ruined engine from a particular area around the airport.
The passengers were subsequently transferred to another Boeing 737-800 aircraft. Black said the flight was en route to Minneapolis. However, the replacement craft was not part of the flights going in and out of St. Paul International Airport that were canceled because of immense winter weather in Minneapolis on Sunday.