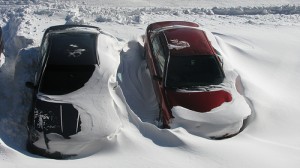 A relentless winter storm was hammering across the upper Midwest, leaving up to 15 inches of snow on Sunday. Areas from Dakotas all the way to Minnesota, including Wisconsin were declared white-out conditions.
State officials advised not to travel in South Dakota where most roads were not yet closed. The  majority of roads in southern Minnesota were already covered in snow. Drivers have limited visibility and airlines canceled many flights.
Travel will be difficult because of the snow and ice in southern Wisconsin, the National Weather Service said. Forecasters even anticipated several inches of snow to cover southern Wisconsin along with some chilly rain that could accumulate ice in some places.
The Weather Bureau expected the storm to leave up to 15 inches of snow from Sunday to midway Monday in Minnesota. Previous weather forecasts even expected the snow to accumulate up to 18 inches in some areas of Minnesota.
The National Weather Service  said blizzard conditions were already developing in south and west of Minneapolis. New Ulm and Lester Prairie were having nearly 8 inches of snow. Meteorologist Tony Zaleski said the snow is blowing around 20 to 30 miles per hour.
Airline operations were reduced because of the high winds brought by the storm. The majority of the flights were canceled at St. Paul International Airport in Minneapolis. Delta Air Lines also canceled hundreds of its flights on Sunday.
From December until the most recent storm, the total snowfall in the Twin Cities had already reached more than 61 inches. In fact, it is the fifth snowiest season on the record based on the statistics of National Weather Service. Additional 10 inches of snow would bring it to the second snowiest winter on record following the 76.9 inches of snow in 1981-82.