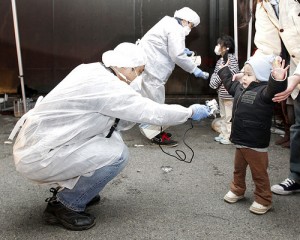 Japan widened its evacuation zone surrounding the quake-hit nuclear power plant due to increased levels of radiation, which have had accumulated, as a strong aftershock hit the area on Monday, a month after the devastating incident occurred.
Tokyo and eastern part of Japan was shook with a 7.1 magnitude earthquake on Monday evening, which then triggered a small tsunami alert. State television said the aftershock caused an off-site power supply for the damaged reactors to shut down.
Geological survey conducted by the United States said that the aftershock hit 38 kilometers (24 miles) west of the Iwaki city at a depth of 14 kilometers (8 miles).
Workers at Tokyo Electric Power Co had ceased pouring cooling waters on reactors no. 1, 2 and 3 at the Fukushima power plant.
Families living in towns and villages outside the 20 kilometer evacuation zone, where more radiation have had accumulated, would be evacuated, according to Chief Cabinet Secretary Yukio Edano. He said hospitalized patients, children and pregnant women should avoid the area within 20-30 kilometers from the Fukushima complex.
Also, Edano said that the decision to expand the evacuation area was based on the data analyzed from the accumulated radiation exposure information. He said the evacuation precautions are meant to secure the safety of the people who might live in the area for 6 months to one year. However, it is not necessary to evacuate immediately, he added.
Previously, Japan did not agree to the proposed plans to extend the evacuation zone despite concerns from neighboring countries regarding the radiation that might spread from the damaged nuclear reactors at Fukushima.