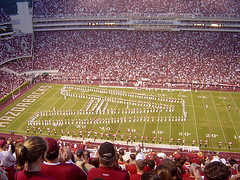 Bobby Petrino, head coach for the University of Arkansas's football team, the Arkansas Razorbacks, has been fired according to a news conference report by Jeff Long, the universities athletic director. After months of lies, Jeff Long could not take it any longer. He simply could not trust Bobby Petrino. Long reports that Petrino's lies have affected the colleges reputation and it was time to let him go. Bobby Petrino will not receive the $18 million due him as stated in his contract.
Long reported that Petrino was involved in a lie about crashing his Harley on April Fool's Day. He lied about having his mistress, Jessica Dorrell with him at the time. Jessica Dorrell was employed by the college as an athletic fundraiser for athletic scholarships until recently when Petrino hired her as a coordinator for student-athlete development programs. He also gave her a $20,000.00 gift. When confronted about these incidents, Petrino lied to Long.
Petrino is married and the father of 4 children. Jessica is engaged to the athletic swim coach at the same university. Petrino was fired for knowingly misleading Long and other athletic staff members and for playing favoritism when hiring his mistress as student-athlete development coordinator. She was one of the top 3 candidates for the position out of over 150. Petrino denied being involved with Dorrell but Long said he and others on the staff had been aware of his affair for quite some time.
Leading the athletic department staff members to believe that he was innocent of having an affair, that he didn't have a woman passenger on his Harley Davison motorcycle when he crashed it during a joy ride, of denying playing favorites when hiring Dorrell and also denying giving her a large monetary gift of $20,000.00 resulted in Bobby Petrino being fired from his position as head coach of the Arkansas Razorbacks on Tuesday, April 11th. The decision has been made with no regrets.