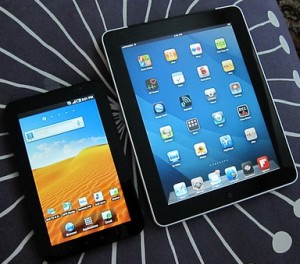 The clash of tablets appears to be on the rage these recently. But, if new figures are any indication, it probably means they are still warming up.
Apple Inc, the undisputed company leader in the industry, has sold more than 14 million iPads as of December. But, market shares dropped in the third quarter of 2010 from 95 percent to 75 percent the succeeding quarter, according to the research firm Strategy Analytics.
During the same period, shipments of Android-powered tablets increased from 2.3 percent to 21.6 percent. However, those figures on market-shares represent shipments from manufacturers to vendors, and not the sales to end-users.
To sum it all, more than 17 million tablets were shipped in the entire world in 2010. More than half of them or 9.7 million were included in the holiday shopping season in the fourth quarter.
Durring the fourth quarter, there were 2.1 millions shipments for Android tablet while only 300,000 devices equipped with other operating systems were shipped.
But, sales for the Samsung Galaxy Tab, which is now the most popular tablet that runs Android operating system, were not as high as the company had hoped for, the Wall Street Journal noted.
Samsung's Lee Young-hee said in an earnings call on Friday that there were two million Tabs shipped by the manufacturer in South Korea, but only "a small number" were bought by consumers.
Still, Apple's financial reports showed a decrease on iPad's success in the last quarter of 2010, CNN noted. There were still 525,000 iPads left unsold than in the preceding quarter.