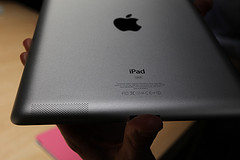 We have all heard crazy stories about how people would push, strike, and kill to get the latest Apple gadget and Apple lovers are well-known for that. That kind of devotion to Apple products what makes the company what it is now. However, selling a body part to afford and iPad 2 is definitely something I have never heard of before.
Based on a featured story in Global Times, a teenager in China's Anhui province desperately wanted to get the latest iPad2 tablet and sold his one of his kidneys to afford it. Zheng, a 17-year old high school student, said that he really wanted to buy an iPad2 but did not have the monetary resources to afford it. A broker got hold of him via the internet and said he can help Zhen.
The broker was very true to his word and helped Zheng get 20,000 yuan (about $3,000) in exchange of one of his kidneys. The operation was done and completed on 28th of April.
Zheng's mother had no idea what her son is up to so she was shocked to see his son with a brand new and expensive Apple iPad2. After she found out how her son got the money, she immediately reported the incident to the authorities. Apparently, they have been trying to track down the broker for a very long time.
How the operation was completed without parental consent, Zhang being a minor is still a puzzle. The authorities, however, are doing every possible thing to put an end to this.