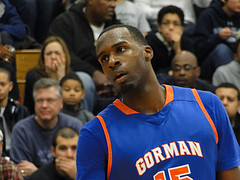 With an NCAA-record 11 national championships and a legacy that includes such legendary figures as John Wooden, Lew Alcindor, Bill Walton and Reggie Miller, the UCLA men's basketball program has indelibly stamped itself among college basketball's elite. However, since making three consecutive Final Four appearances from 2006 through 2008, the Bruins have reached the NCAA Tournament but twice in the ensuing four seasons. Head coach Ben Howland and his staff have high hopes that their hard work on the recruiting trail over the past year signals a quick turnaround in the Bruin's near future.
UCLA got the signature of highly sought-after Shabazz Muhammad, the nation's second-ranked high school recruit on Wednesday, the first official signing day of the spring signing period. Shabazz, a 6-6 small forward from Las Vegas Bishop Gorman, cast his lot with the Bruins over his other two finalists, Duke and Kentucky. The athletic Muhammad demonstrated his versatility and scoring prowess during the recent McDonald's All-American game, earning MVP honors with his 21 points and 6 rebounds in leading his West team to a 106-102 victory. Muhammad capped off his high school career by averaging 29.8 points, 9.9 rebounds and 2.5 assists per game to lead Bishop Gorman to the Nevada 4A state title for the third consecutive season. College scouts rave not only about his physical skills, but also his non-stop energy.
Besides Muhammad, Howland and staff also obtained signatures from two other Top 100 recruits, 6-7 SF-G Kyle Anderson of St. Anthony's Prep in Jersey City, N.J., and 6-5 deluxe shooter Jordan Adams, a native of Lawrenceville, Ga. who prepped at Virginia's Oak Hill Academy. The Bruins are also still in the hunt for big man Tony Parker, a 6-9 270-lb. C from Lithonia, Ga. who remains unsigned.
With the addition (so far) of the three highly-touted recruits, UCLA appears to be in position to be a factor in the 2012-13 Pac-12 race. Barring any unexpected defections by returning players, most notably 6-10 rising junior center Joshua Smith, the Bruins are hopeful that this infusion of talent will propel them back into not only conference prominence, but also make them a significant "player" on the national scene, which is where die-hard supporters expect them to consistently be.