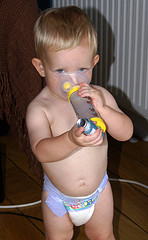 A current study found that close to a million children in the United States are prescribed with antibiotics for asthma even though the actual guidelines do not recommend its use. Dr. Ian Paul, the lead researcher and a professor of pediatrics at the Pennsylvania State University College of Medicine, said that they try really hard not to prescribe unnecessary antibiotics but their study shows that pediatricians are prescribing the drug too often.
Paul said that it is unclear why doctors prescribe antibiotics to treat severe asthma. He, however, said that doctors may feel that they need to cover all bases and also prescribe antibiotics. There are also times when parents themselves ask their doctors for antibiotics.
The one finding that Paul thought to be encouraging is that education regarding asthma plays an important role in the prescription antibiotics. It appears that when astham education was delivered during the visit, antibiotics are only prescribed 11% of the time; in comparison to 19% when asthma education is not given.
Paul further said that this means we can decrease the likelihood of the use of antibiotics in treating asthma by educating families and patients.
In addition, the doctor said that most antibiotics have side effects and patients may develop antibiotic-resistant bacteria which are life threatening. That is why unnecessary prescription of antibiotics is definitely discouraged.
This report was published on "Pediatrics" on the 23rd of May. Pediatrics is an online medical magazine.