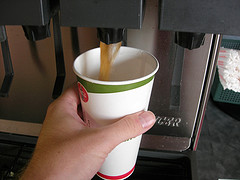 A recent study shows that only one out of four high school students drink soda every day. The study suggests that this ratio shows fewer teenagers are drinking that much sugary drink anymore. Also, the researchers discovered that many high school students actually drink milk, water, and fruit juices very often.
Nance Bener, the study's lead author, said that they were extremely pleased with what they discovered. Bener is also a part of the Centers for Disease Control and Prevention. Brener, however, said that they still acknowledge the fact that a quarter of American teenagers are still drinking sweetened drinks every day.
The consumption of soda is considered as one of our biggest public health problems and has been directly linked to the increase in childhood obesity rate in the United States. A study including schoolchildren in Massachusetts show that for every additional soda one takes per day, the chances of becoming obese increases by 60%. To help ease the problem, many schools voluntarily stopped selling sweetened drinks in school cafeterias.
Director of the Rudd Center for Food Policy and Obesity of Yale University, Kelly Brownell, said that it really looks like the rate of high school students drinking sweetened drinks on a regular basis is going down. In 2010, the rate dropped from 29% from the previous year to 24%.
Brownell, however, said that the results of the current study are still a bit depressing. He pointed out that even though the rates have gone down; a quarter of all high school students is still a huge number.