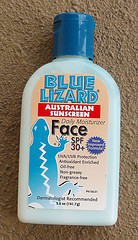 The United States Food and Drug Administration announced on Tuesday that they will require new sunscreen labelling in order to identify the products that are best for decreasing the risk of skin cancer.
Based on the new rules, sunscreens that protect its users from UVA and UVB rays will be classified under "Broad Spectrum" sunscreens. FDA officials explained that both UVA and UVB rays cause skin damage; however, UVB rays are the main cause of sunburn.
Manufacturers of sunscreens will also be required to indicate sun protection factor (SPF). Those with less than SPF 15 could not claim that they help thwart sunburn, cancer, and premature skin aging.
The director of the Center for Drug Evaluation of the U.S. FDA, Dr. Janet Woodcock, said that sunscreens that meet their standards can now advertise their product as a tool that can help reduce the risk of skin cancer and early skin aging when used with other sun protection methods. The new labels, however, may not be seen until next summer, she added.
On the other hand, sunscreens with SPF of less than 14 and are not Broad Spectrum must indicate in their labelling that their product is not proven to decrease risks of skin cancer and sunburn. Woodcock also said that the said labels will be added on the drug fact box. She also said that sunscreens can no longer be referred to as "sunblocks" to avoid the impression that they offer complete protection from the harmful rays of the sun.