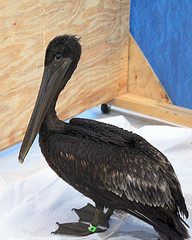 Daryl Hannah was arrested Thursday. She was protesting the building of the controversial Keystone XL Pipeline by standing in front of a bulldozer ready to start clearing the area.
Protesting was taking place east of Dallas, about 80 Miles. Hannah has been an environmental activist for many years. Last year she was also arrested protesting yet another pipeline plan. That time the arrest was in Washington.
Plans for the Keystone XL pipeline would bring oil from Canada to the Texas Golf Coast in excess of 500,000 barrels per day. The Keystone XL project belongs to oil giant TransCanada Corp.
Hannah stood by the owner of the property in front of bulldozers waiting to start the project. Eleanor Fairchild, age 78, had the her land forcibly taken under context of eminent domain.
TransCanada Corp ensures that the pipeline will be built "Safe and Secure" Although activist have their doubts.
The portion of the project being protested by Hannah will bring the oil supply from Cushing Oklahoma to Texas refineries.
President Obama supports this part of the project, but rejected the northern half of the project, which would bring crude oil across the border from Canada. There have been concerns about building over the water supply in Nebraska.